Get set for a journey through the breathless Mediterranean coast. Explore the awe-inspiring art of Barcelona before heading to Saint Tropez, made famous by legendary beauty Brigitte Bardot. Taste a platter of artisanal bread, cheese and charcuterie with a glass of wine in Saint Florent, and discover the early Greek foundation of Olbia, a must-see in town.
Special Offer: Free Upgrade to Veranda Suite Plus $1,000 On Board Credit per suite
This stunning Ultra Luxury cruise departs from beautiful Barcelona and travels to Sete and Saint Tropez in France before visiting St Florent in Corsica. Next up is the Tuscan city of Livorno, handy for excursions to Pisa or Florence, and gorgeous Olbia on the island of Sardinia. Your penultimate stop is Naples in the shadow of Mount Vesuvius before you reach your final port, Civitavecchia, near Rome.
| | |
| --- | --- |
| DESTINATION | France & Italy |
| FROM | Dublin / Barcelona |
| DATE | 27th July 2019 |
| DURATION | 7 Nights |
| PRICE | From €3,900 pp |
Get set for a journey through the breathless Mediterranean coast. Explore the awe-inspiring art of Barcelona before heading to Saint Tropez, made famous by legendary beauty Brigitte Bardot. Taste a platter of artisanal bread, cheese and charcuterie with a glass of wine in Saint Florent, and discover the early Greek foundation of Olbia, a must-see in town.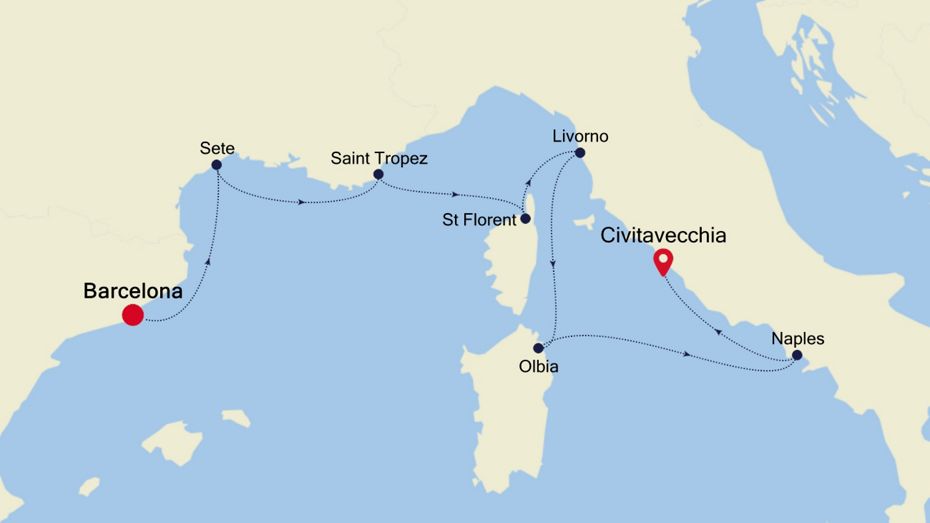 Day to Day Itinerary:
Day 1:
 

Barcelona, Spain: Depart 19:00

After your flight to Barcelona, you will be transferred to the port to board the 6* Silversea Silver Shadow.

The infinite variety of street life, the nooks and crannies of the medieval Barri Gòtic, the ceramic tile and stained glass of Art Nouveau facades, the art and music, the throb of street life, the food (ah, the food!)—one way or another, Barcelona will find a way to get your full attention. The capital of Catalonia is a banquet for the senses, with its beguiling mix of ancient and modern architecture, tempting cafés and markets, and sun-drenched Mediterranean beaches. A stroll along La Rambla and through waterfront Barceloneta, as well as a tour of Gaudí's majestic Sagrada Famíliaand his other unique creations, are part of a visit to Spain's second-largest city. Modern art museums and chic shops call for attention, too. Barcelona's vibe stays lively well into the night, when you can linger over regional wine and cuisine at buzzing tapas bars.
Day 2: Sete, France: Arrive 08:00 Depart 19:00
The fishing village of Sète serves as gateway to Montpellier, in the North. Other noteworthy destinations in this area include Carcassone, Aigues Mortes, the Abbaye de Fontfroide, and Pezenas. For a look at the real fisherman's life, however, stay right where you are. Sète is the Mediterranean's biggest fishing port. Canals winding through town make it fun to stroll around, and there are a number of good walking paths leading to the beach (about 30 minutes to the west). Although it's small and unspectacular, Plage de la Corniche has calm, pristine waters that are perfect for swimming. For a panoramic view of the area, climb Mont St-Clair or Les Pierres Blanches and pick a beach to settle down on.
Day 3: Saint Tropez, France: Arrive 08:00 Depart 23.30
At first glance, it really doesn't look all that impressive. There's a pretty port with cafés charging €5 for a coffee and a picturesque old town in sugared-almond hues, but there are many prettier in the hills nearby. There are sandy beaches, rare enough on the Riviera, and old-fashioned squares with plane trees and pétanque players, but these are a dime a dozen throughout Provence. So what made St-Tropez an internationally known locale? Two words: Brigitte Bardot. When this pulpeuse (voluptuous) teenager showed up in St-Tropez on the arm of Roger Vadim in 1956 to film And God Created Woman, the heads of the world snapped around.
Day 4: St Florent, Corsica, France: Arrive 09:00 Depart 23:00
The pretty little resort of St-Florent is the principal town of the hugely fertile region known as the Nebbio, an amphitheatre-shaped valley that's ringed by high mountains and renowned for its olives, wheat and chestnuts. Though little more than a village, St-Florent boasts its own cathedral, plus a picturesque 15th-century citadel that was bombarded by Nelson and now consists of a small round tower, closed to visitors. In summer, St-Florent springs to life as a bustling, rather upscale holiday destination, attracting visitors with a string of restaurants, a marina crammed with pleasure boats, and a reasonable beach, the Plage de la Roya, 2km southwest. Better beaches, best accessed by boat, lie between the isolated headlands further west.
Day 5: Livorno, Italy: Arrive 08:00 Depart 19:00
Livorno is a gritty city with a long and interesting history. In the early Middle Ages it alternately belonged to Pisa and Genoa. In 1421 Florence, seeking access to the sea, bought it. Cosimo I (1519–74) started construction of the harbor in 1571, putting Livorno on the map. After Ferdinando I de' Medici (1549–1609) proclaimed Livorno a free city, it became a haven for people suffering from religious persecution; Roman Catholics from England and Jews and Moors from Spain and Portugal, among others, settled here. The Quattro Mori (Four Moors), also known as the Monument to Ferdinando I, commemorates this. (The statue of Ferdinando I dates from 1595, the bronze Moors by Pietro Tacca from the 1620s.) In the following centuries, and particularly in the 18th, Livorno boomed as a port. In the 19th century the town drew a host of famous Britons passing through on their grand tours. Its prominence continued up to World War II, when it was heavily bombed.
Day 6: Olbia, Sardinia, Italy: Arrive 08:00 Depart 17:00
Amid the resorts of Sardinia's northeastern coast, Olbia, a town of about 60,000, is a lively little seaport and port of call for mainland ferries at the head of a long, wide bay.San SimplicioOlbia's little Catholic basilica, a short walk behind the main Corso Umberto and past the train station, is worth searching out if you have any spare time in Olbia. The simple granite structure dates from the 11th century, part of the great Pisan church-building program, using pillars and columns recycled from Roman buildings. The basilica has a bare, somewhat somber interior, its three naves separated by a series of arches.
Day 7: Naples, Italy: Arrive 08:00 Depart 18:00
Naples, in the Campania region, is Italy's third largest city. Its claim to fame is the spectacular location along one of the world's most splendid bays, backed by the perfect cone of Mount Vesuvius. In addition to its beautiful setting, Naples' surprises with other outstanding attractions such as the Royal Palace, San Carlos Opera House, the impressive National Archaeological Museum and the Castel Nuovo, dating from the 13th-century. The city's central area is best explored on foot. Chaotic traffic conditions make driving around the city a very frustrating experience. Naples provides a convenient starting point for trips to such favored destinations as Pompeii, Herculaneum and Mount Vesuvius. The Isle of Capri can be reached via a 45-minute hydrofoil service. The region of Campania was home to Greeks settlers some 300 years before Rome was founded. Pompeii, too, was a Greek town before being conquered by the Romans during the 5th century BC.
Day 8:
 

Civitavecchia (Rome), Italy: Arrive 08:00

Italy's vibrant capital lives in the present, but no other city on earth evokes its past so powerfully. For over 2,500 years, emperors, popes, artists, and common citizens have left their mark here. Archaeological remains from ancient Rome, art-stuffed churches, and the treasures of Vatican City vie for your attention, but Rome is also a wonderful place to practice the Italian-perfected il dolce far niente, the sweet art of idleness. Your most memorable experiences may include sitting at a caffè in the Campo de' Fiori or strolling in a beguiling piazza.

Following breakfast on your final day, you will be transferred to the airport for your flight home to Ireland.
7-nights on board the Ultra Luxury Silver Shadow.
Silver Shadow
Award-winning Silver Shadow has all the hallmarks of extreme luxury at sea. With one of the highest space-to-guest ratios at sea, Silver Shadow is a firm favourite in the Silversea fleet.
Authentic experiences. Simple pleasures. Shared moments. Silversea's Millennium Class luxury cruise ships Silver Shadow and Silver Whisper offer you freedom and space to design your day. Slightly larger in size than ships Silver Cloud and Silver Wind, Silver Shadow retains Silversea's essence – spacious suites, a complement of only 388 guests, superior service – paired with a lively cosmopolitan atmosphere and enhanced amenities. Aboard the Silver Shadow, energize body and soul with complimentary Pilates and yoga in the expanded fitness center. Savour fine wines and French gastronomy in La Dame, enjoy authentic Italian cuisine in La Terrazza, or simply gaze at endless ocean views from The Grill. Not forgetting the regional-inspired The Restaurant, dining at sea has never been so good.
Guests capacity: 388
Crew capacity: 302
Last refurbishment: 2017
Tonnage: 28 258 Tons
Dates & Prices
| DATE | PRICE | STATEROOM | |
| --- | --- | --- | --- |
| 27 July 2019 | €3,900 | Vista Suite | Book Now |
| 27 July 2019 | €3,900 | Veranda Suite | Book Now |
Special Offer: Free Upgrade to Veranda Suite Plus $1,000 On Board Credit per suite
Price Inclusions
Flight from Dublin to Barcelona
All transfers from airport to port
7 nights on board 6-star Silver Shadow based on two sharing
Open-seating dining options – dine when and with whomever you please
Diversity of dining venues – casual, romantic, regional delicacies, and gourmet cuisine inspired by Relais & Châteaux
Beverages in-suite and throughout the ship – select wines, premium spirits, speciality coffees and soft drinks, plus your own tailored mini-bar
In-suite dining and 24-hour room service – always complimentary, always available
Sophisticated entertainment from live music to production shows
Complimentary transportation into town in most ports
Butler service in every suite – all guests
All onboard entertainment
Flight from Rome to Dublin
One check-in bag of 20kg per person
Taxes and gratuities
Booking remarks
Inclusive of taxes and service charges as indicated
Non-refundable or transferable booking deposit of 25%
Optional Insurance from €31 (conditions apply)
Beverages in-suite and throughout the ship – select wines, premium spirits, speciality coffees and soft drinks, plus your own tailored mini-bar
Gratuities always included in your fare with Silversea
These prices are guidelines only and are subject to change and availability. Pricing will be confirmed at time of booking.

Silversea

Terms and Conditions apply