The massive archipelago that is the Caribbean needs no introduction. This voyage of nine islands that belong to nine different countries give you a different colonial influence on each one. But whether you are a history buff or a sun lover, no one can deny the paradisiac beauty of long ribbons of white sand, crystalline waters lapping at the shore and warm, welcoming smiles wherever you go.
This stunning 12-night Ultra Luxury cruise from San Juan, Puerto Rico, travels to the beautiful US Virgin Islands and to the Caribbean Islands of Saint Barthelemy, Antigua, Martiniqye, Dominica, St. Maarten and the British Virgin Islands before stopping at iconic Key West on its way to Ft. Lauderdale.
| | |
| --- | --- |
| DESTINATION | Caribbean |
| FROM | Dublin / San Juan |
| DATE | 10th November 2019 |
| DURATION | 12 Nights |
| PRICE | From €3,690 pp |
The massive archipelago that is the Caribbean needs no introduction. This voyage of nine islands that belong to nine different countries give you a different colonial influence on each one. But whether you are a history buff or a sun lover, no one can deny the paradisiac beauty of long ribbons of white sand, crystalline waters lapping at the shore and warm, welcoming smiles wherever you go.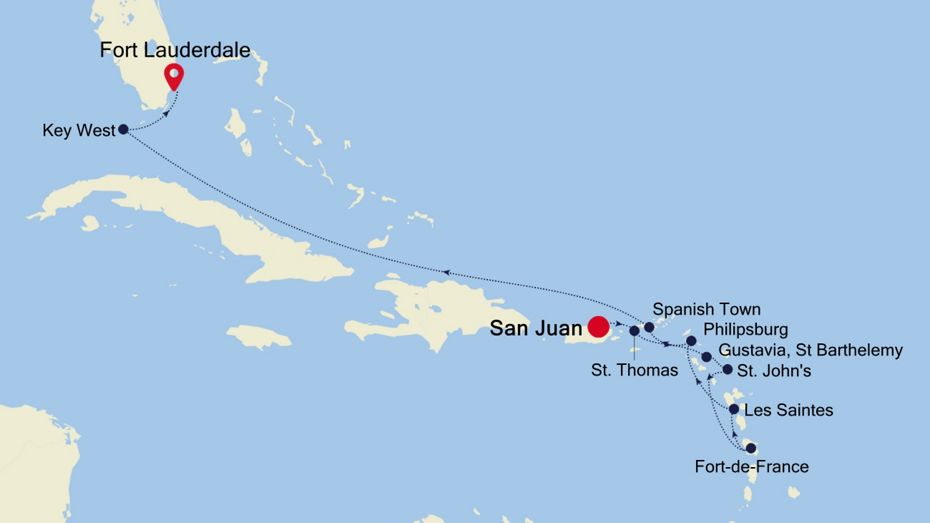 Day to Day Itinerary:
Day 1:
 

San Juan, Puerto Rico: Depart 22:00

After your flight to Puerto Rico, you will be transferred to the port at San Juan to board the 6* Silversea Silver Whisper.
Day 2: St. Thomas, US Virgin Islands: Arrive 08:00 Depart 18:00
If you fly to the 32-square-mile (83-square-km) island of St. Thomas, you land at its western end; if you arrive by cruise ship, you come into one of the world's most beautiful harbours. Either way, one of your first sights is the town of Charlotte Amalie. From the harbour you see an idyllic-looking village that spreads into the lower hills. If you were expecting a quiet hamlet with its inhabitants hanging out under palm trees, you've missed that era by about 300 years. Although other islands in the USVI developed plantation economies, St. Thomas cultivated its harbor, and it became a thriving seaport soon after it was settled by the Danish in the 1600s. The success of the naturally perfect harbor was enhanced by the fact that the Danes—who ruled St. Thomas with only a couple of short interruptions from 1666 to 1917—avoided involvement in some 100 years' worth of European wars.
Day 3: Gustavia, Guadaloupe: Arrive 08:00 Depart 23:00
You can easily explore all of Gustavia during a two-hour stroll. Some shops close from noon to 3 or 4, so plan lunch accordingly, but stores stay open past 7 in the evening. Parking in Gustavia is a challenge, especially during vacation times. A good spot to park is rue de la République, alongside the catamarans, yachts, and sailboats.
Day 4: St. John's, Antigua: Arrive 08:00 Depart 18:00
Since being designated a European Capital of Culture for 2013, with an estimated €660 million of funding in the bargain, Marseille has been in the throes of an extraordinary transformation, with no fewer than five major new arts centers, a beautifully refurbished port, revitalized neighborhoods, and a slew of new shops and restaurants. Once the underdog, this time-burnished city is now welcoming an influx of weekend tourists who have colonized entire neighborhoods and transformed them into elegant pieds-à-terre (or should we say, mer).
Day 5: Fort-de-France, Martinique: Arrive 08:00 Depart 23:00
The largest of the Windward Islands, Martinique is 4,261 mi (6,817 km) from Paris, but its spirit and language are decidedly French, with more than a soupçon of West Indian spice. Tangible, edible evidence of the fact is the island's cuisine, a superb blend of French and creole. Martinique is lushly landscaped with tropical flowers. Trees bend under the weight of fruits such as mangoes, papayas, lemons, limes, and bright-red West Indian cherries. Acres of banana plantations, pineapple fields, and waving sugarcane stretch to the horizon. The towering mountains and verdant rain forest in the north lure hikers, while underwater sights and sunken treasures attract snorkelers and scuba divers. Martinique is also wonderful if your idea of exercise is turning over every 10 minutes to get an even tan and your taste in adventure runs to duty-free shopping.
Day 6: Roseau, Dominica: Arrive 08:00 Depart 23:00
Although it's one of the smallest capitals in the Caribbean, Roseau has the highest concentration of inhabitants of any town in the eastern Caribbean. Caribbean vernacular architecture and a bustling marketplace transport visitors back in time. Although you can walk the entire town in about an hour, you'll get a much better feel for the place on a leisurely stroll. For some years now, the Society for Historical Architectural Preservation and Enhancement (SHAPE) has organized programs and projects to preserve the city's architectural heritage. Several interesting buildings have already been restored. Lilac House, on Kennedy Avenue, has three types of gingerbread fretwork, latticed verandah railings, and heavy hurricane shutters. The J.W. Edwards Building, at the corner of Old and King George V streets, has a stone base and a wooden second-floor gallery.
Day 7: Phillipsburg, St. Maarten: Arrive 08:00 Depart 23:00
The capital of Dutch St. Maarten stretches about a mile (1½ km) along an isthmus between Great Bay and the Salt Pond and has five parallel streets. Most of the village's dozens of shops and restaurants are on Front Street, narrow and cobblestone, closest to Great Bay. It's generally congested when cruise ships are in port, because of its many duty-free shops and several casinos. Little lanes called steegjes connect Front Street with Back Street, which has fewer shops and considerably less congestion. Along the beach is a ½-mile-long (1-km-long) boardwalk with restaurants and several Wi-Fi hot spots.Wathey Square (pronounced watty) is in the heart of the village. Directly across from the square are the town hall and the courthouse, in a striking white building with cupola. The structure was built in 1793 and has served as the commander's home, a fire station, a jail, and a post office.
Day 8: Spanish Town, British Virgin Islands: Arrive 08:00 Depart 15:00
Virgin Gorda, or "Fat Virgin," received its name from Christopher Columbus. The explorer envisioned the island as a pregnant woman in a languid recline, with Gorda Peak being her belly and the boulders of the Baths as her toes. Different in topography from Tortola, with an arid landscape covered with scrub brush and cactus, the pace of life is slower here, too. Goats and cattle own the right of way, and the unpretentious friendliness of the people is winning. The top sight (and beach for that matter) is the Baths, which draws scores of cruise-ship passengers and day-trippers to its giant boulders and grottoes that form a perfect snorkeling environment.
Day 9-10: At Sea:
Day 11: Key West, Florida, USA: Arrive 08:00 Depart 16:30
Located closer to Havana than Miami, Key West is synonymous for all that is fabulous. Whether it's beaches, back country or just a brilliant time that you're after, Florida's most southern point holds a wealth of intrigue, both past and present. Famed for its unique originality, Key West is a condensation of the best of the sunshine state – fantastic weather, laid back attitude, deep-rooted history and masses of fantastic, fresh seafood; it's little wonder that nobody ever wants to leave.Floating in the middle of the Gulf of Mexico, the island has two very definite personalities: bookish and bizarre. On the one hand, the literary festivals, exquisite Caribbean architecture and splendid art galleries attract the bourgeoisie, while on the other, the eccentricity and reticence to be associated with "the mainland" attracts all kinds of "happies" –new era hippies. Read more
Day 8:
 

Ft. Lauderdale, Florida: Arrive 07:00

Following breakfast on your final day, you will be transferred to the airport for your flight home to Ireland.
12-nights on board the Ultra Luxury Silver Whisper.
Silver Whisper
The amenities of a grand resort. The charms of a stylish boutique hotel. Silversea's Millennium Class ships Silver Whisper and sister ship Silver Shadow invite you to enjoy Silversea's world-class accommodations, shipboard conviviality and warm, individualized service, paired with the enhanced spaces and amenities of a larger ship. Revel in the pampering treatments of an expanded wellness spa, shop the hottest trends from top designers at our shipboard boutiques, and enjoy dynamic full-scale productions in a multi-tiered show lounge. Silver Whisper luxury cruise ship has it all. Design your own schedule … or no schedule at all … Silver Whisper.
GUESTS: 382
CREW: 302
LENGTH: 610 Feet / 186 Meters
Dates & Prices
| DATE | PRICE | STATEROOM | |
| --- | --- | --- | --- |
| 10 November 2019 | €4,520 | Vista Suite | Book Now |
| 10 November 2019 | €5,330 | Veranda Suite | Book Now |
| 10 November 2019 | €6,680 | Single Vista Suite | Book Now |
Price Inclusions
Flight from Dublin to San Juan, Puerto Rico
All transfers from airport to port
12 nights on board 6-star Silver Whisper based on two sharing
Open-seating dining options – dine when and with whomever you please
Diversity of dining venues – casual, romantic, regional delicacies, and gourmet cuisine inspired by Relais & Châteaux
Beverages in-suite and throughout the ship – select wines, premium spirits, speciality coffees and soft drinks, plus your own tailored mini-bar
In-suite dining and 24-hour room service – always complimentary, always available
Sophisticated entertainment from live music to production shows
Complimentary transportation into town in most ports
Butler service in every suite – all guests
All onboard entertainment
Flight from Florida to Dublin
One check-in bag of 20kg per person
Taxes and gratuities
Booking remarks
Inclusive of taxes and service charges as indicated
Non-refundable or transferable booking deposit of 25%
Optional Insurance from €31 (conditions apply)
Beverages in-suite and throughout the ship – select wines, premium spirits, speciality coffees and soft drinks, plus your own tailored mini-bar
Gratuities always included in your fare with Silversea
These prices are guidelines only and are subject to change and availability. Pricing will be confirmed at time of booking.

Silversea

Terms and Conditions apply