Visits Fred's Favourite Fjords aboard the Fred Olsen Balmoral. You will sail straight into the heart of Norway's incredible fjordland in just a fraction of the time it would take from a southern departure port and enjoy as many fantastic ports of call and journeys through mesmerising fjords that we could possibly cram into a 5-night cruise.
Office Use L1908 & L1921
| | |
| --- | --- |
| DESTINATION | Norway |
| FROM | Dublin / Newcastle, England |
| DATE | 23 May & 23 August 2019 |
| DURATION | 5 Nights |
| PRICE | From €1,069 pp |
Some of the fjordland's most enchanting destinations are yours to discover on this short, yet highly rewarding cruise on board Balmoral. You can enjoy scenic cruising of breathtaking waterways, marvel at incredible natural wonders and uncover the delights of two contrasting ports of call; all this is yours to experience in less than a week, thanks to your departure port's convenient proximity to Norway. After an overnight sail from Newcastle your exploration of the awe-inspiring Norwegian fjords starts with a glide along the glassy waters of Lysefjord; a feat only possible for smaller ships. Dramatic cliffs, magnificent mountains and mysterious rock formations dominate the idyllic Lysefjord; the scenery on display here is sure to captivate you. A full-day in vibrant Bergen begins early the following morning. You'll have time here to take in this Hanseatic city's many highlights, the best of which include the world-famous UNESCO-listed Bryggen Wharf, the bustling fish market and the Troldhaugen Museum – the former home of world-renowned composer Edvard Grieg. For unspoilt views of Bergen's gorgeous surrounding landscapes be sure to ride the funicular railway to the top of majestic Mount Fløyen. Your ship will sail deep into Hardangerfjord – Norway's second longest fjord – next, all the way to Eidfjord. Some of the fjordland's most astonishing landscapes encompass this charming village; taking a kayaking tour on the still waters of the Hardangerfjord is a unique way to marvel at the soaring peaks here. On tours from Eidfjord, the Vøringsfossen – one of Norway's most famous waterfalls – and the Hardangervidda Nature Centre, which offers a fascinating insight into Norway's natural environment, are within reach too. A return journey along the Hardangerfjord follows in the evening, offering you another opportunity to capture the outstanding natural beauty of the 'Queen of the Fjords', before Balmoral diverts into Maurangerfjord to present you with a close-up look at the cascading Furebergfossen Waterfall – another of Norway's incredible natural wonders that is not often seen by guests on larger cruise ships.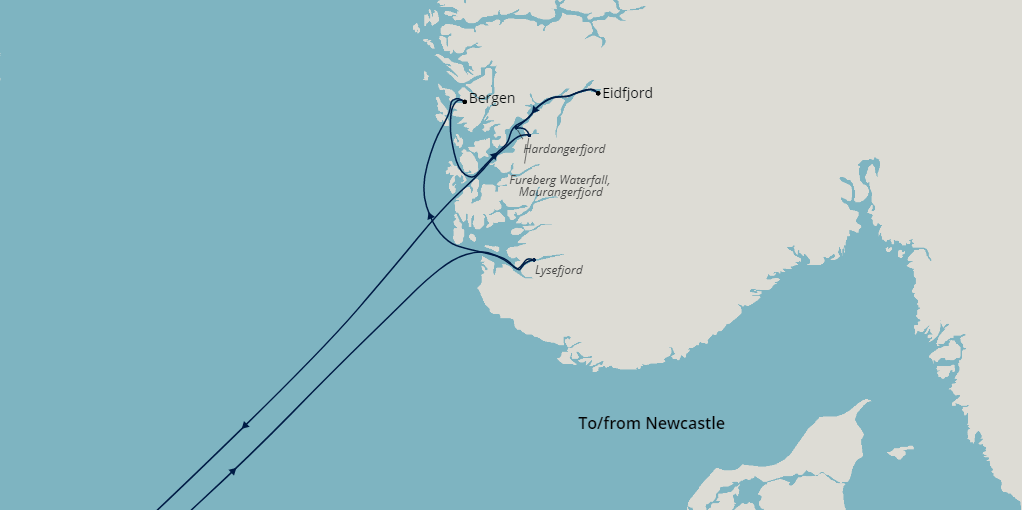 Flight Times:
| | |
| --- | --- |
| OUTBOUND | Dublin 09:00 Newcastle 10:15 |
| RETURN | Newcastle 10:45 Dublin 12:00 |
Day to Day Itinerary:
Day 1: Newcastle, United Kingdom: Depart Late PM
Following your flight from Dublin, you will be transferred to the port to board the Fred. Olsen Balmoral where you will begin your journey.
Day 2: Cruising Lysefjord (Pulpit & Kjerag Boulder): 
Experience an unforgettable scenic cruise along the beautiful Lysefjord, a size-restricted waterway carved 40 Kilometres into Norway's breathtaking west coast. The Lysefjord is a stunning example of the Norwegian fjords' spectacular natural beauty. Carved into the landscape by glacier movement in the Ice Age approximately 10,000 years ago, Lysefjord is lined by magnificent mountains and dramatic cliff faces – some soaring over 1,000 metres high into the unpolluted skies above. In some sections of the fjord the water is as deep as the mountains are high, however at the shallowest point the water depth drops to just 13 metres. This means only small ships such as those in the Fred. Olsen fleet can cruise the Lysefjord. Sailing along the glassy waters on board a smaller cruise ship is without doubt the best way to take in the fjord's eclectic sights. Lookout for tumbling waterfalls, wonderful wildlife and pretty settlements dotted along the shores; and marvel at the sight of the impressive Lysefjordbrua suspension bridge as so you sail into the fjord. On a clear day it is possible to see the famous Preikestolen – a huge 604 metre-high flat mountain plateau – and Kjeragbolten, a large rock wedged in one of Mount Kjerag's crevices. If you're very lucky you may hear the gunshot-like bang of Kjeragsmellet – an unexplained natural phenomenon that's particularly prominent in the winter months.
Day 3: Bergen, Norway: 
Arrive Early AM to Late Night
The Hanseatic city of Bergen has many attractions, including the UNESCO-listed Bryggen Wharf, with its colourful timbered houses and cobbled streets; a vibrant fish market; and the Troldhaugen Museum, the former home of Norway's most famous composer, Edvard Grieg. Bergen was one of the great Hanseatic ports, and this maritime heritage is recalled by the 900-year-old Bryggen Wharf, with its splendid museum. The wharf is a delight to explore: its narrow streets climb away from the waterfront, lined by interesting shops, colourful half-timbered houses and cobbled stairways, with alleyways and tiny open spaces that beg to be explored. In summer months every spare corner seems to be filled with pots and containers overflowing with colourful flowers that fill the air with perfume. Bergen is framed by seven magnificent hills, the highest of which can be reached by a funicular railway. From the top there are spectacular views down to the harbourside, where cafés, bars and restaurants welcome visitors from around the world. Bergen was the home of Norway's most famous composer, Edvard Grieg, and the Troldhaugen is a museum devoted to his life and work, including an exhibition centre, shop and café.
Day 4:
Eidfjord, Norway (Cruise Hardangerfjord & Maurangerfjord – Furebergfossen Waterfall: 
Arrive Early AM to Late Night
Day 5:
At Sea
Day 6:
 

Newcastle, UK: Arrive Early AM

Once you have disembarked the Balmoral and finished your wonderful adventure we will have you transferred to the airport to get your flight back to Dublin.

The 23rd August departure spends Day 3 in Eidfjord and cruising Ulvikafjord and Hardangerfjord, and Day 4 in Bergen.
5 Nights accommodation aboard the Balmoral, operated by Fred. Olsen Cruise Line. (See ship info tab for more information on the Balmoral)
Balmoral
Balmoral is the largest and newest cruise ship, named after the Scottish home of the Royal Family. Still smaller than most cruise ships today, there are 710 cabins and suites and generous public space for the 1,300 guests on board. The main restaurant is Ballindalloch (named after the Speyside village and castle), while the two other formal restaurants – Avon and Spey – are also in keeping with the Scottish theme and are named after two of Scotland's most beautiful salmon rivers. There's a comfy pub with occasional live music or comedy, cabaret and shows in the Neptune Lounge, or drift away with a cool drink and spectacular seascapes in the Observatory Lounge.
Dates & Prices
| DATE | PRICE | Cabin | |
| --- | --- | --- | --- |
| 23 May 2019 | €1,129 | Inside | Book Now |
| 23 May 2019 | €1,239 | Outside | Book Now |
| 23 May 2019 | €1,459 | Superior Outside | Book Now |
| 23 May 2019 | €2,049 | Balcony Cabin | Book Now |
| 23 May 2019 | €1,679 | Single Inside | Book Now |
| 23 August 2019 | €1,069 | Inside | Book Now |
| 23 August 2019 | €1,249 | Outside | Book Now |
| 23 August 2019 | €1,369 | Superior Outside | Book Now |
| 23 August 2019 | €2,109 | Balcony Suite | Book Now |
| 23 August 2019 | €1,619 | Single Inside | Book Now |
Price Inclusions
Return flights Dublin to Newcastle with Aer Lingus
Return Transfers airport / port
5 nights accommodation aboard the Balmoral based on 2 sharing
Fine dining on a full board basis
All onboard entertainment
Free All Inclusive Drinks Package.
One check-in bag of 20kgs and one 10kgs carry-on per person
Taxes and charges of €130
Booking remarks
Inclusive of taxes and service charges as indicated
Non-refundable deposit of 15% due on confirmation of booking
Optional Insurance available (call for details)
Drinks packages available to prebook – only €18 per person per night
Gratuities from €5 per person per night payable at the end of your cruise onboard M.S. Boudicca
These prices are guidelines only and are subject to change and availability. Pricing will be confirmed at time of booking.
Office Use L1908 & L1921